Weekend Getaway – Thommankuthu Waterfalls
Idukki, the greenery that carpets Kerala and makes up the pleasant climate of the region, is a treasure trove for nature and adventure enthusiasts. It is dotted with several little-explored havens where nature's beauty exists in its purest form. Thommankuthu Waterfalls is one such little-known place where you can dive deep into the frigid cold water and awaken your senses.
Located in Kothamangalam Division, Kaliyar Range of the Kerala Forest Department, Thommankuthu waterfalls is a seven-step waterfall created by the Kannadiyaru River.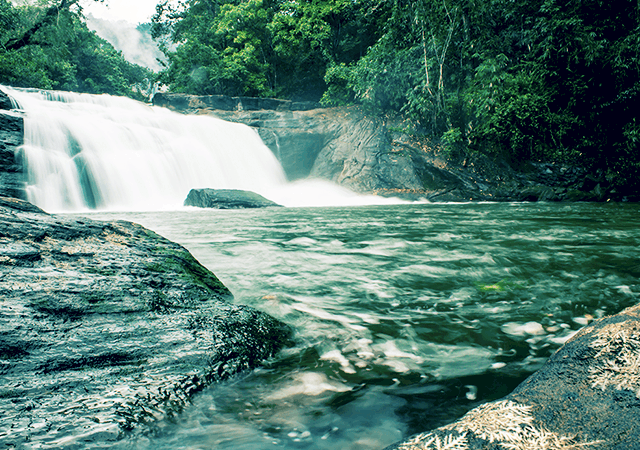 Image by Amjithps via Wikimedia
Each of the seven steps is known by individual names; Thenkuzhikuth, Chekuthankuth, Palungankuthu, Kudachiyarkuthu, Thekkanthonikuthu and Koovamalakuthu. These seven-step makes Thommankuthu one of the most beautiful waterfalls in Kerala.
All along the river route are dotted several stagnant water pools alternated by rapid currents mighty enough to wash away grown men with ease.
As a result, entry and exit to the waterfall region is closely watched by the Kerala Forest Department. The department also provides professional guides who take tourists through safe regions from entry till exit for a modest charge.
Things to do at Thommankuthu waterfalls
Thommankuthu is an ideal place for those who want a break from the urban concrete jungle and jostling traffic. It offers soothing tranquillity, fresh air and crystal clear waters that will tempt you to take a dip.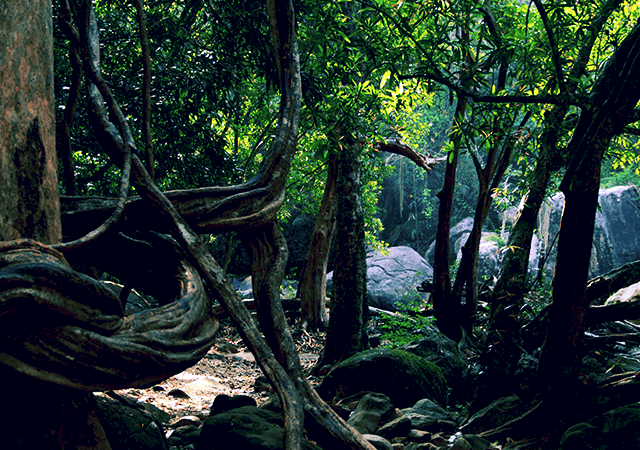 Image by Dhruvaraj S via Flickr
The torrential waters passing amidst boulders and the steep incline up the mountain terrain set the ground for some of the finest trekking routes (moderate level) in the region.
Keep your eyes and ears open all along as you might have some surprise sighting of sambar deer, wild tuskers, wild goats, rare exotic species of butterflies, Draco (a rare dragon tailed flying lizard) and many other wildlife species.
Best time to visit Thommankuthu
The best time to visit Thommankuthu is from September to May. During the monsoon season, especially June onwards, the Kannadiyaru river matures into a wild reckless torrent spoiling all possibilities of swimming, bathing and river crossing. The forest department usually shuts down tourist visits during this period.
History of Thommankuthu
Several myths and fables that date back centuries add to the visit worthiness of Thommankuthu. Locals claim that the waters were once a bathing pond of nymphs and that they are enriched with healing powers, thanks to the many medicinal herbs that they brush through before arriving at their climax.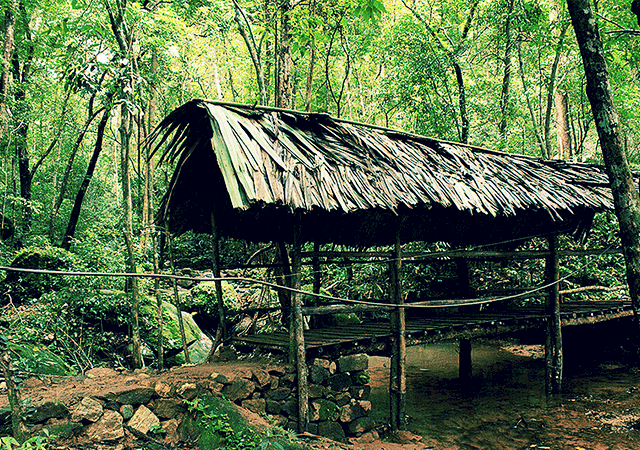 Image by Amjithps via Wikimedia
The origin of the name Thommankuthu has an interesting myth surrounding it. A tribal leader by the name "Thuman" while trying to swim across to the other shore to pluck flowers was washed away by the raging river.
The forest region surrounding Thommankuthu has been home to several tribal communities since time immemorial. Plapothu Cave, Maakkal Cave, Palunkan Cave, Narakan Cave, are some of the caves in the region where tribal communities are said to have been living since prehistoric times.
Small tribal settlements still exist in the region and can be reached with the help of forest guides. Prior permission will have to be obtained from the forest guards for accessing tribal settlements.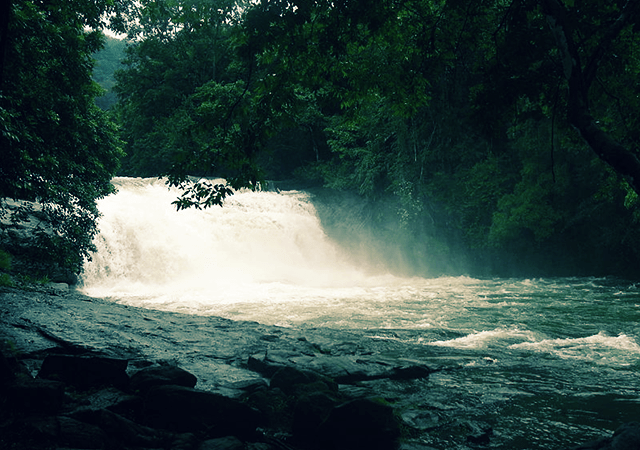 Image by Mathew Jibin via Wikimedia
How to reach Thommankuthu
Aluva is the nearest railway station to Thommankuthu located at a fair distance of 65 km. There are regular trains that operate from Chennai, Bangalore, Mangalore, Cochin, Delhi, Kanyakumari and many other important railway stations of the country.
If flying is your choice of travel, then the nearest airport is the Cochin International airport located at a distance of 52 km. From the airport as well as the railway station you can hire taxis and private tourist buses to Thommankuthu.
Being a mountain terrain, public transport is a rarity. There are KSRTC and private buses that ply from Thodupuzha to Thommankuthu, however, they are rather disconnected and may not serve an idyllic weekend tourist getaway.
By private transport, take left from Thodupuzha towards Karimanoor-Malappuram. If you are coming from Muvattupuzha, take the Vanapuram route to reach Thommankuthu waterfalls.
Distances from landmark locations:
Thodupuzha – 21Km
Kumarakom – 84Km
Munnar – 61Km
Idukki – 45Km
Vagamon – 51Km
Thekkady – 94Km
Contact:
District Tourism Promotion Council Office, Idukki – Ph: 0486-2232248.
Divisional Forest Office, Kothamangalam – Ph: 0485-2822317.
Forest Range Officer, Kaliyar – Ph: 0486-2247591.
If you like this post, please share!