Thusharagiri Waterfalls – Weekend Getaway
Really exhausted after a hectic week at the office or college? Well, it's time to recharge your batteries and start afresh! How about escaping to a destination that'll give you a mixed dose of adventure and peace? Then, start your journey to enjoy Thusharagiri waterfalls. Thusharagiri waterfalls one of the most beautiful waterfalls in Kerala
Nestled in the lap of the Western Ghats, 50 kms away from Kozhikode, this tourist attraction is largely an unexplored place. Thusharagiri literally means 'mist-capped peak'. The verdant landscape of Thusharagiri covered with mist and snow presents a mind-blowing picture to a visitor.
Two streams that begin their journey from the Western Ghats converge here to form the river, Chalippuzha. The river, then, diverges into three cascades to form a snowy spray; that's how Thusharagiri got its name. The sight of the waterfalls gently caressing the rocky, hilly terrain simply soothes your senses.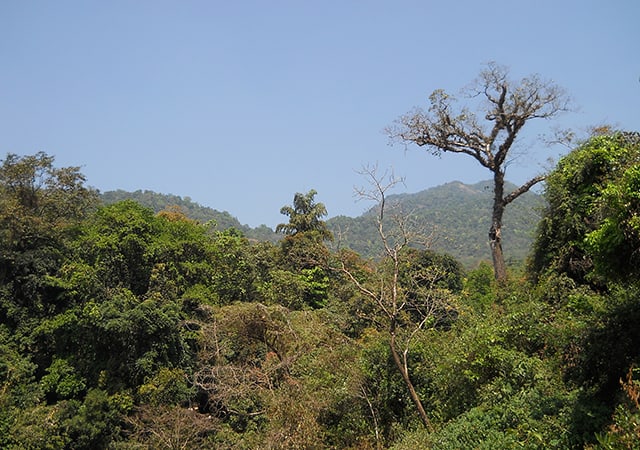 Image by Manojk via Wikimedia
Thusharagiri comes under the Eco-Tourism Division of the Kerala Govt. There are three main waterfalls in this protected area – Erattumukku, Mazhavil Chattom and Thumpi Thullum Para. The first two waterfalls are within ½ a km radius; the third one is almost a km away. If you can go further, you can reach Thenpara, situated at a height of 75 metres. It has the highest waterfall in Thusharagiri.

The surrounding woods give you an aura of adventure. Thusharagiri is an ideal haunt for trekking and rock climbing. The trekking trail starting from Thusharagiri can lead you to Vythiri in Wayanad. As you ascend to the top, you will be greeted by the waterfalls, lush greenery, ravines and streams, rubber, areca nut and spices plantations and exotic wildlife.
There are camping sites where you can rest for a while and admire the ravishing beauty of the Nature. Another star attraction of Thusharagiri is the 120 year old Thanni tree, locally known as Thanni Muthassi (Grandmother Thanni). The main feature of this tree is that it is hollow inside and can accommodate, at a time, 3 persons into its lower reaches.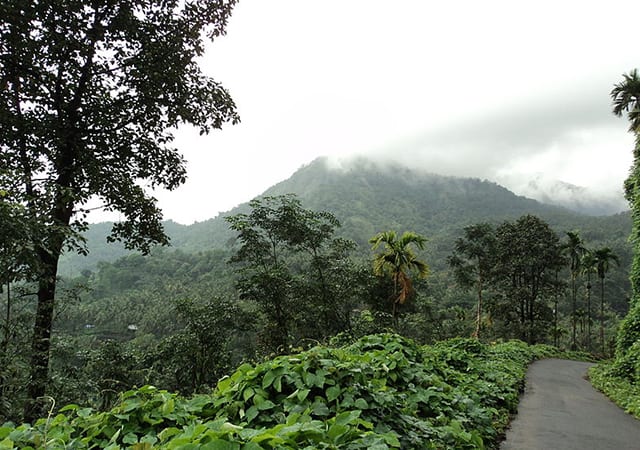 Image by Svg3414 via Wikimedia
Things to Remember
Wear comfortable clothing; also don't forget your trekking footwear as you have to walk and climb a lot.
Bring some food with you as there are no food stalls inside the forest.
Be careful while climbing the slippery paths. Carry antiseptics and cotton as leeches are found here.
Follow the instructions of the guide; do not wander off to paths not suggested by the guide as you may come across wild animals.
How to Reach
By Road : The nearest town is Kodencherry, 11kms away. You can hire a cab or an auto rickshaw to reach Thusharagiri. KSRTC buses also ply through this route.
By Rail : The nearest railway station is Kozhikode (50 kms)
 By Air : The nearest airport is Karippur International Airport, Kozhikode (23 kms from Kozhikode)
Accommodation
There are limited lodging facilities at Thusharagiri. You can stay in hotels or lodges in Kozhikode or Kodencherry.
Best Time to Visit
The splendid beauty of Thusharagiri waterfalls can be best enjoyed during September to November; right after the monsoon in Kerala recedes.
A weekend at Thusharagiri would be an enchanting experience. The adventure of trekking coupled with the charm of the waterfalls will make your body and soul, thoroughly rejuvenated. So, pack your bags and get going!

If you like this post, please share!