Kathakali – Where to Watch
Kerala has a well-known rich tradition and culture that has been the awe of the world for ages and generations. Kathakali is one such.
Situated in the southern part of India, Kerala always secured the hot spot for various tourism activities on various counts.
After touring the intricate backwaters, mesmerizing hills stations and the tantalizing beaches, people flock to explore the unique culture of this beautiful destination.
Kathakali, a very famous classical dance-story-drama form, is the perfect rendition of the fact that emotions go beyond words. It had evolved as a temple art form in the 17th century and eventually grew to become a potential dance-drama of all time.
Both male and female artistes partake in the Kathakali show and wear elaborate, billowing costumes with intricately painted faces, flowing scarves, detailed ornaments, and magnificent crowns.
As Kathakali is a form of storytelling, the dramatics involved in it has been so overwhelming that it has attracted huge crowds. The actors in the show, through the macro and micro movements of their face and hands, portray the demonic and heroic figures in Hindu mythology, primarily.
Stories from the two Indian epics Ramayana and Mahabharata are enacted through the movement of eyeballs, nose, chin, and cheeks, and even exquisite hand mudras that are actually difficult to master. The actors in the play use symbolic makeup to depict the various characters they are portraying, while miming to musician sung libretto song, and moving rhythmically to the ambience set by the chenda and the maddalam (different types of cylindrical drums) and the gong.
The overwhelming dramatic quality set by this combination is perfectly in tune with the actors' hand-gesture language and facial expressions.
Kathakali is thus very famous for its vibrant storytelling, fantastic make up and elaborate costumes.
There are several centers in Kerala where you can enjoy this classical art form:
1. Kerala Kalamandalam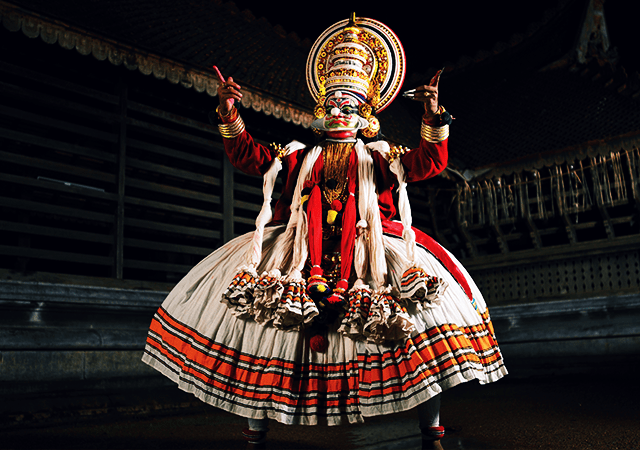 Though Kathakali was founded in the 17th century, the turn of the 20th century saw a decline in the art form. This was when two renowned personalities, Vallathol Narayana Menon, the famous Malayalam poet and Mukunda Raja, a royal Kathakali enthusiast formed a society called Kerala Kalamanadalam at Thrissur for the revival of the art form.
They raised funds, and eventually, the center started in full swing. Kerala Kalamandalam grew as an institute, but it still follows the ancient Gurukula sampradayam (ancient education system of India) and several renowned students mastered their art here.
2. Folklore Museum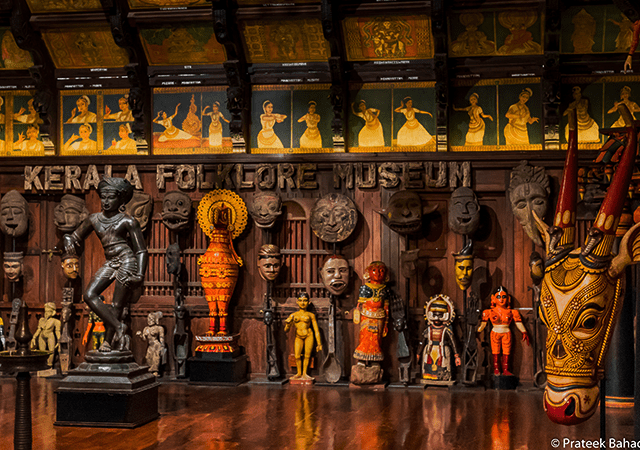 Folklore Museum is situated in Kochi, and is renowned to be the place that hosted a Kathakali show when Prince Charles visited India. The museum is elaborate, pricey with a huge repository of magnificent pieces representing Kerala art, heritage, and architecture on display and the walls decorated with murals from ancient Kerala history and mythology.
The aim of the museum is to preserve the culture and artifacts that speak volumes of Kerala history. Mrs. and Mr. George Thaliath promote the museum and it already contains more than 4000 precious goods from over 20 years. If you want to sit in an air conditioned hall and watch Kathakali, this is where you go.
3. Kathakali Club
The Kathakali Club is also situated in Kochi and is believed to be one of the oldest cultural organizations here. It was started in 1959, as a fruition of several like-minded individuals who shared a common passion – Kathakali.
About 300 Kathakali enthusiasts form the membership of the club, and they have monthly programmes on one theme or the other.
4. Kerala Kathakali Centre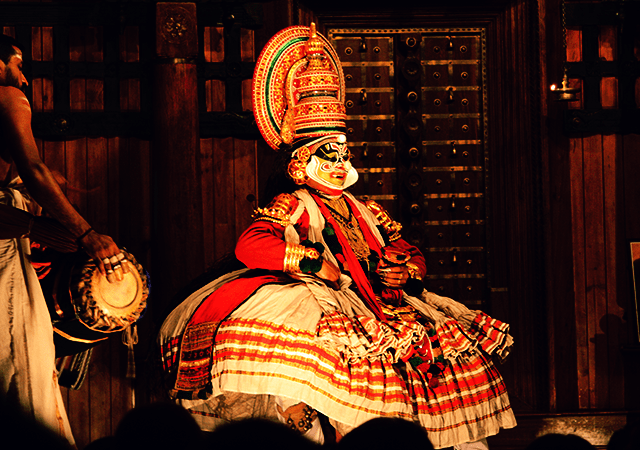 Kerala Kathakali Centre at Fort Kochi is a place where Kathakali performances are held and taught. They teach various art forms including music, martial arts, and other dance forms.
You can visit the centre if you want to get a refreshing taste of the rich culture and heritage of Kerala, and enjoy some great shows. Each year, the centre plays hosts to hundreds of programmes, for guests from around the world.
5. Margi Theatre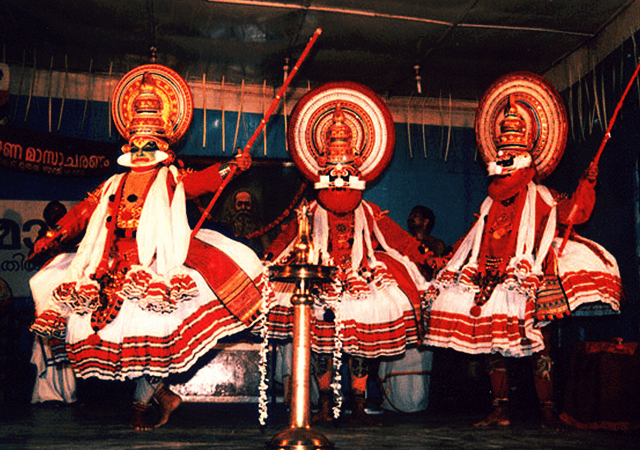 Margi Theatre at Thiruvananthapuram focuses on the revival of Kathakali and Koodiyattom, another very famous art form of Kerala. The word Margi comes from Sanskrit, meaning "pursuit of aesthetic values which are universal and everlasting".
The institute aims to provide Gurukula system of training to its students, and both short term and long term courses. The Margi Theatre was started in 1970 with the sole aim of promoting traditional dance forms including Mohiniyattom, Bharatanatyam, Kathak, Kuchipudi, Manipuri, Arjuna Nritham, Vedic Music, Hindustani classical music apart from Kathakali.
6. Kadathanadan Kalari Centre & Navarasa Kathakali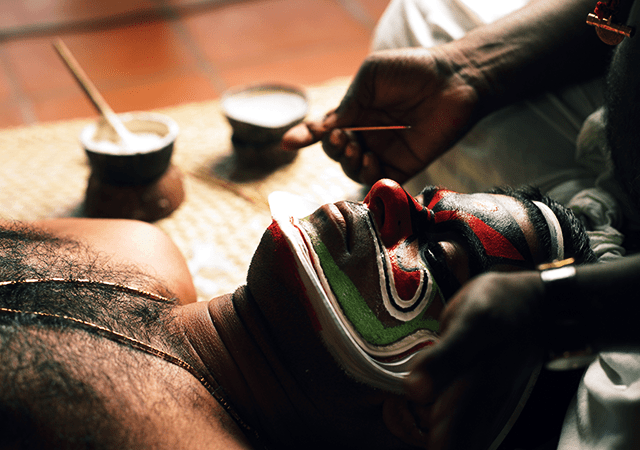 This is a popular cultural centre in Thekkady where both dance forms and martial arts are performed in the evenings.
People who would like to watch entire shows enacted in all its glory, complete with elaborate costumes and makeup, can come here. Anyone interested in culture and heritage and Kerala will enjoy a visit to the centre, to enjoy both entertainment shows and training.
Conclusion
There are many Kathakali centres in Kerala and these are some of the main ones. Others, which we have not mentioned in detail here include Dr. Devan's Kathakali, Kairali Kathakali, and Rhythms Theatre.
All these centres wholeheartedly welcome guests, who enjoy not just the elaborate performances, but the "art of makeup" as well. The artists retire to their respective rooms a couple of hours before the show, to start with their makeup, and this endeavor is definitely worth a watch.
If you like this post, please share!!