Kalaripayattu – Kerala's art form
Kalaripayattu is one of the oldest, traditional martial art forms in Kerala. It is considered the most scientific type of martial art form in the world and can only be performed by well-trained artists who posses the unique skills required to withstand the training.
While it was originally practiced in some parts of South India as training for combat, it now serves as a popular form of entertainment in Kerala. Combat training is usually undertaken only at a Kalari, which is a professional training school.
Kalari education begins with an oil massage of the body to make the trainee supple and agile. They are then taught basic moves such as chaattom (jumping), ottam (running), marichil (somersault), adi (strike), idi (punch), thada (defence) and payattu (assault).
Once these skills are mastered, students are given lessons in using weapons like daggers, swords, bow and arrow, spears, maces, etc. Kalaripayattu training aims to help the performer gain ultimate co-ordination of the mind and body. So, some of the traditional centres include trainings in indigenous medical practices too.
Kalaripayattu techniques include a combination of Chuvatu (steps) and Vadivu (postures). Performers display a variation of styles with incredible strength and agility to enthral the audience.
If you'd like to experience the beauty and might of Kalaripayattu in all its original glory, there are several places in Kerala where you can do so.
1. C.V.N. Kalari, Thiruvananthapuram and Kozhikode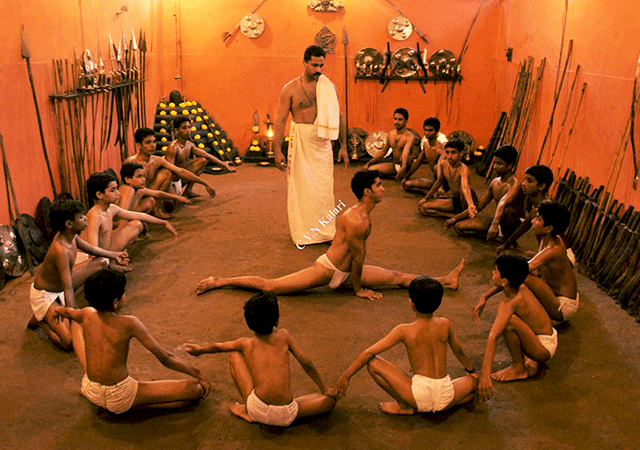 Image via cvnkalari.com
Founded in the year 1945, the C.V.N. Kalari has established professional Kalaripayattu training schools in both Kozhikode and Thiruvananthapuram. Much touted as the father of modern martial art, Kalaripayattu can be seen here as an amalgamation of physical culture and self-defence.
This particular centre conducts regular Kalari training, short-term classes for foreign visitors and also provides Kalari treatments for orthopaedic, neurological and muscular diseases.
2. Kadathanadan Kalari, Thekkady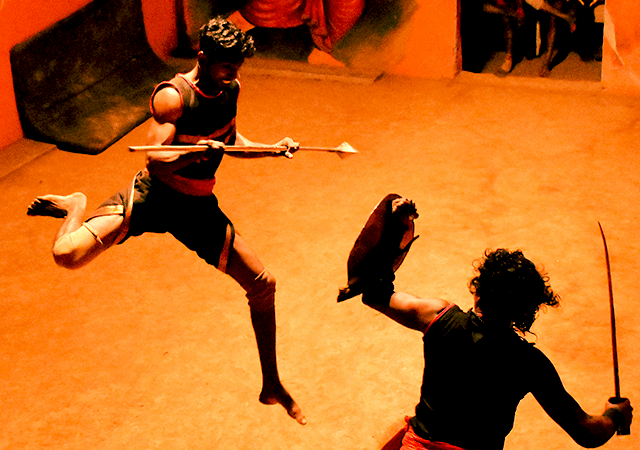 Image by Rajib Ghosh via Flickr
The Kadathanadan Kalari Centre in Thekkady conducts regular performances of the 3000 year old art form to enthral visitors. You get a front row seat to witness a holistic approach towards the ultimate co-ordination and control of the mind and body.
The art form is presented as a synergic harmony of art, science and medicine. Weapons are used as an extension of the body and are controlled by the mind in both offensive and defensive combat techniques. You can easily book a ticket online to observe firsthand the might and prowess of the participants.
3. Kerala Kathakali Centre, Kochi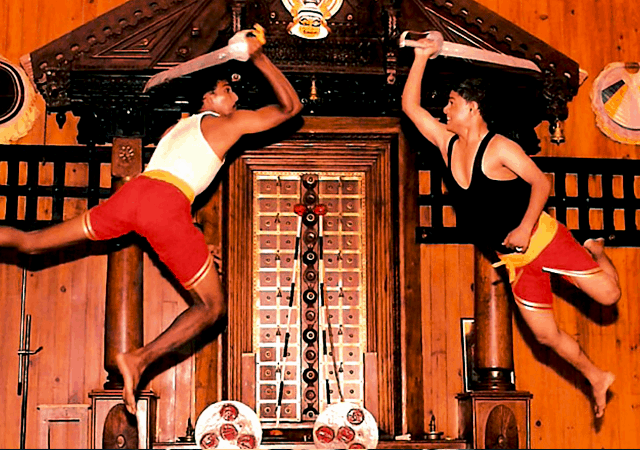 Image via kathakalicentre.com
This centre in Kochi has regular Kalaripayattu performances, apart from other art forms such as Kathakali and other Indian classical dances. You can pick the shows you'd like to attend beforehand and book the tickets online.
Visitors usually find the Kalaripayattu show to be dangerously breathtaking as performances include the use of the Urumi – a thin long metal blade! If you want to experience the strength, flexibility and pure muscle power of the fighters, you're sure to enjoy this show.
4. Punarjani Traditional Village, Munnar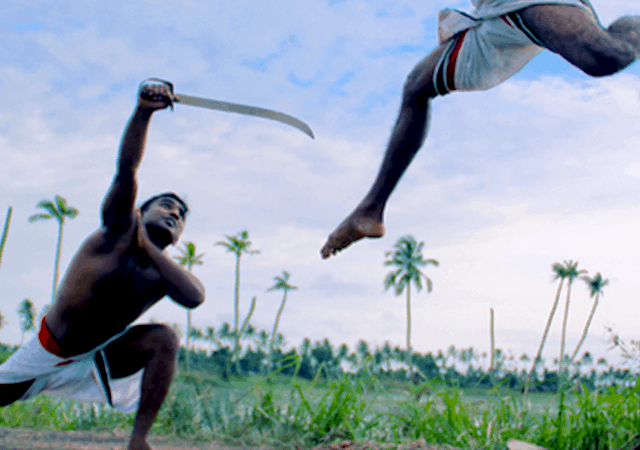 Image via punarjanimunnar.com
The Punarjani Traditional Village is located about 8km south of Munnar town. This place is a hotspot of traditional Kerala heritage, nestled amidst the natural beauty and peaceful environment of the Munnar hillside.
The Kalarippayattu show is held during the evenings in the traditional Kuzhikkalari, which is an earthen carved setting. The performance is held in a round shaped theatre to ensure the audience gets a 360 degree view from the gallery.
5. Mudra Cultural Centre, Thekkady for Kalaripayattu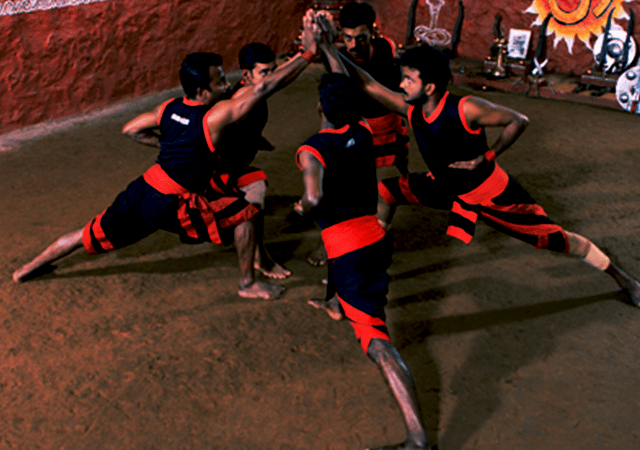 Image via mudraculturalcentre.com
The Mudra Cultural Centre in Thekkady is committed to keeping ancient Indian customs alive. They conduct regular Kalarippayattu shows where performers demonstrate their raw power and graceful strength, drawing their inspiration from sturdy animals like the lion, tiger, elephant, wild boar, snake and crocodile.
What was once shrouded in deep mystery, taught by professional masters in total isolation, away from prying eyes, is now brought out into the open theatre for visitors to marvel at and enjoy.
6. Kalari Kshethra, Munnar for Kalaripayattu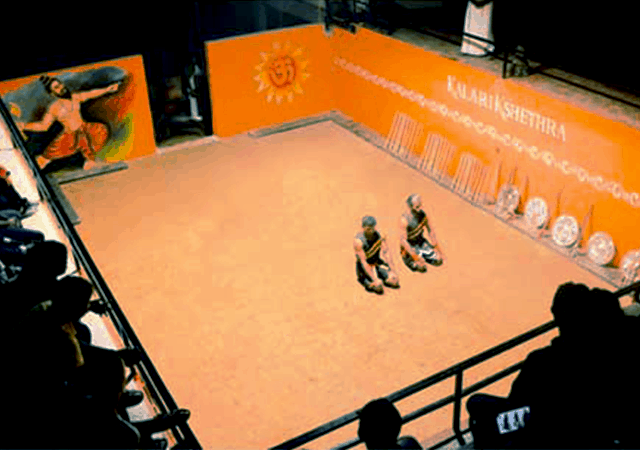 Image via munnarportal.com
The Kalari Kshethra in Munnar conducts daily evening shows to portray the beauty, strength and agility of Kalarippayattu performers. You get to watch glimpses of:
Mey Payattu (Physical Training)
Vadi Payattu (Stick Combat)
Ayudha payattu (Weapon Combat)
Adi thada (Hand Combat)
This centre has a provision for online reservation and they also arrange special shows and training classes based on the demand.
7. Greenix Village, Kochi for Kalaripayattu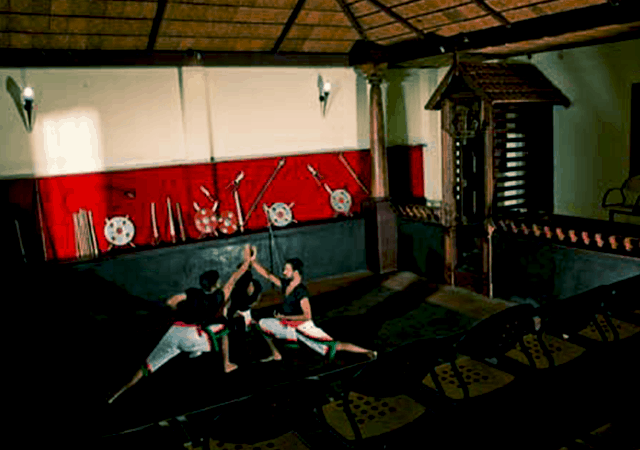 Image via greenix.asia
Greenix Villiage is a popular cultural performing arts centre in Fort Kochi. It is a treasure trove of veritable information, authentic performances and a re-creation of Kerala's rich culture along with its native dance forms.
The Kalaripayattu training and performance square has an L-shaped gallery area so visitors can watch the artists undergoing extensive training in the craft. Across the seating area, you can also view a display of Kalaripayattu weapons that are traditionally used by performers. They also demonstrate the massage therapies used by the masters to overcome injuries.
Conclusion
Kalaripayattu is, without a doubt, an original depiction of the concentration, courage and confidence of performers who've mastered the ancient martial art form. Many of these places we've mentioned in this article also include Kathakali performances and other demonstrations of native Kerala culture.
We wholeheartedly recommend you include a Kalaripayattu show during your next visit to Kerala… It will be an experience you'll cherish for a long, long time!
If you like this post, please share!!